Posts tagged with "Rheinmetall"
Featured
Get 80% performance of the PzH-2000 for 50% of the budget. Currently, most Western armed forces face a range...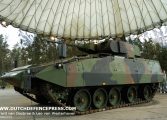 News
dinsdag, 5 oktober 2004
Featured
The project to develop the Puma infantry fighting vehicle is now one of the Bundeswehr's most important...
Featured
In August 2002, a joint initiative of the Bundeswehr and the German defence industry succeeded in setting the...