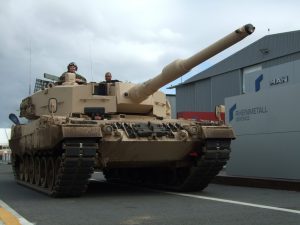 Marking the African debut of the German Leopard 2A4 Main Battle Tank (MBT), Rheinmetall Defence of Germany took advantage of Africa Aerospace & Defence 2010 (AAD) in Cape Town to put world's number one MBT through its paces. AAD is a premier event on the international 'Aviation and Defence' calendar, as a showcase for civil and military aviation, maritime and land-based Defence technologies. This largest exhibition of its kind in Africa was held this year once again at Air Force Base Ysterplaat from 21 to 25 September 2010.
Daily live presentations on a special test track proved to be a major draw, with the Leopard 2A4's excellent mobility in rough terrain clearly impressing the crowd.
Making its first appearance in Africa, the German Leopard 2A4 MBT is a potential replacement for the currently deployed Olifant MBT used by the South African Armoured Corps.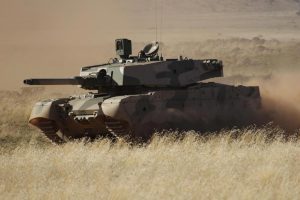 The Olifant is actually an upgraded version of the British Centurion tank, which was first shown in 1945. This has been upgraded on numerous occasions by the now BAE Systems Land Systems South Africa, with the latest version being the Mk 2 deployed by two squadrons and the earlier Mk 1A being used by other units.
It was expected that the Olifant would have been replaced by a new MBT some years ago, with customized versions of the now Nexter Systems Leclerc and BAE Systems Global Combat Systems Challenger 2E MBT being shortlisted.
However, priority funding went to the South African Air Force and Navy and in the end no MBT orders were placed. Both of these MBTs are now out of production, although some vehicles could be refurbished or upgraded for the export market.
There is still a requirement for an MBT to replace the ageing Olifants, with sufficient vehicles required for about three battalions. However, funding will be a problem in the short term at least. The original requirement was for 96 new MBT, six armoured recovery vehicles and four armoured vehicle-launched bridges, but it is understood that this has now been increased to about 132 units.
Rheinmetall has been developing and producing armoured vehicles for over forty years. The Leopard 2 continues to set the global standard for modern MBTs, with more than 3,600 in existence, now in service with 16 nations. Although Rheinmetall is not the main contractor for the Leopard 2 MBT, the company has nevertheless played an integral role in its development and production. Moreover, out of a total 2,125 Leopard 2A4 tanks produced, 977 were manufactured entirely by Rheinmetall in Kiel for the German and Dutch armed forces. By supplying critical subsystems, Rheinmetall contributes decisively to the Leopard's overall performance. For example, Rheinmetall is responsible for its 120mm smoothbore main armament, still the world's finest tank gun. This cutting edge weapon is produced under licence in the United States for the M1 Abrams, and is also found in other MBTs.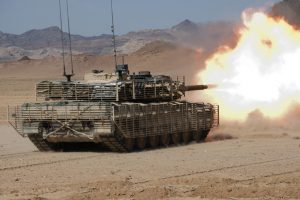 The Leopard likewise benefits from Rheinmetall's globally leading ammunition technology. Developing perfectly harmonized combinations of weapons and associated ammunition families is a longstanding core competence of the Rheinmetall Group, blending system integration expertise with unrivalled kinetics know-how.
The Leopard tank is currently in service with 16 nations in various variants since it was first introduced in the 1970s, and it continues to do so with the latest deployed model of the Leopard 2: the Leopard 2A6, which has a host of improvements. Addition to the Leopard family: the Leopard 2A7. Unveiled in mid-2010 was the latest Leopard 2A7 Plus, which has been developed by Krauss-Maffei Wegmann in association with the German Army. Although still designated as a Leopard 2, little besides its outside appearance is similar to the older versions. Integrating the latest in tank armour and weaponry together with a 2nd generation hybrid-electric tank engine, the Leopard 2A7 is basically a brand new tank fit for the modern battlefield. The Leopard 2A7's armour is a classified tougher variant of the titanium composite armour found on other armoured vehicles. This new type of armour has been thoroughly tested, but the results have not yet been published. Strong but light-weight armour combined with its powerful hybrid electric engine gives the Leopard 2A7 a very good balance between protection and mobility. The modern Leopard's bite comes in the shape of the new L60 120mm smoothbore main gun. The L60 features an advanced automatic loading system, making it one of the fastest firing tanks in the world. Perhaps the most interesting about the L60 though, is that it is an Electrothermal-chemical (ECT) gun. An electrothermal-chemical gun uses a plasma cartridge to ignite and control the ammunition's propellant, using electrical energy as a catalyst to begin the process. ETC increases the performance of conventional solid propellants, reduces the effect of temperature on propellant expansion and allows for more advanced, higher density propellants to be used. ECT technology significantly enhances the 120mm rounds kinetic energy and penetrating power, while the tank doesn't need extensive re-designing to fit a larger caliber gun and ammunition.
The tank's secondary armament is two .50 cal. machine guns, one coaxial and one fitted on a 'Sentinel' remote controlled turret. The Sentinel turret, operated by the gunner or tank commander, gives the crew the ability to engage enemy infantry, light vehicles or helicopters from inside the tank. This is especially valuable in urban combat, where the top gunner would be exposed to fire from tall buildings.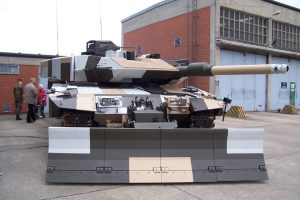 There is also a Leopard 2 MBT that feature the PSO (Peace Support Operations) upgrade, with up-armoured side skirts, increased reconnaissance and surveillance capabilities and a bulldozer blade for clearing road blocks and barricades. This upgrade, first shown on a Leo 2A5 demonstrator in 2006, is specially adapted for urban warfare scenarios.
Currently Rheinmetall Defence has also developed a modular upgrade package for the Leopard called 'MBT Revolution', which offers numerous improvements, especially in the areas of survivability and firepower. With a view to future combat scenarios, Rheinmetall's MBT Revolution modular upgrade program is a coherent concept for adapting the Leopard 2 and other tanks for new missions. In particular, the concept includes a fully digitized turret as well as a 360 degrees protection package capable of withstanding the full array of asymmetric threats. 3rd generation optical sight and reconnaissance technology rounds this compelling performance upgrade suite.
Developed and manufactured by Rheinmetall and based on the Leopard, the Buffel/Buffalo 3 armoured recovery vehicle forms an integral part of the Leopard 2 family of land systems. Likewise based on the Leopard 2 chassis, Rheinmetall's highly versatile Kodiak armoured engineer vehicle underscores the Group's competence and capabilities as a system builder.
In the field of C4I and fire control technology, Rheinmetall possesses a unique selling point. Adapted to the individual requirements of the user, it supplies customized solutions that can be integrated into existing higher-echelon command and control systems.
Furthermore, user nations benefit from Rheinmetall's longstanding experience in maintenance and system support, even during deployed operations. Made-to measure logistical concepts guarantee high levels of readiness and reliability for systems in service worldwide. Moreover, the recent integration of MAN's military truck division means that Rheinmetall now has a tightly woven, comprehensive global service network. Rheinmetall's logistical philosophy also embraces the use of existing military resources as well as local contractors, thus providing users with maximum strategic independence.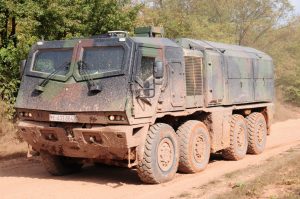 Rheinmetall Denel Munition of South Africa forms an integral part of the Rheinmetall Defence Group. In particular, the integration of the 155mm L52 main armament from the company's PzH 2000 self-propelled howitzer into Denel Land Systems outstanding G6 artillery system, earmarked for third-party customers, shows the Rheinmetall is willing and able cooperate successfully with the South African defence industry.
Finally, at its Unterlee competence centre, Rheinmetall boasts the largest proving ground and firing range in Europe. Located near the German Army Armour School in Munster, this sprawling facility gives the company a huge advantage in developing new defence technology solutions, independently and economically.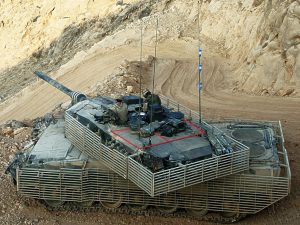 During the current Afghanistan mission, the Canadian Leopard 2 has performed impressively in the face of asymmetric threats such as landmines and IEDs, saving crewmembers' lives. Today, there is no denying that main battle tanks will continue to play a decisive role in assuring the combat effectiveness and survivability of friendly forces on future battlefields. For the South African National Defence Forces, currently reviewing possible replacements for the aging Olifant tank, this is likely to be a key consideration.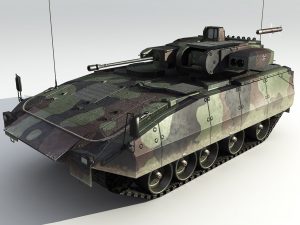 Together with Krauss-Maffei Wegmann (KMW), Rheinmetall has also developed the new Infantry Fighting Vehicle for the German armed forces: the Puma and is currently ramping up series production of 405 Pumas. The Puma, with its shaped hull and modular add-on armour, provide enhanced protection for its up to nine occupants.