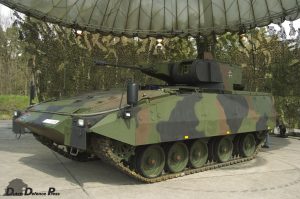 Krauss-Maffei Wegmann (KMW) and Rheinmetall have concluded a cooperation agreement with the American companies Science Applications International Corporation (SAIC) [NYSE: SAI] and The Boeing Company [NYSE: BA] in order to tender a joint bid for the development contract for the Ground Combat Vehicle (GCV) programme of the United States Army.
This cooperation will see KMW and Rheinmetall acting as subcontractors with SAIC acting as the general contractor with regard to the procuring agencies.
As the manufacturers of the Puma infantry fighting vehicle of the German Armed Forces, the most modern system of its kind in the world, KMW and Rheinmetall will be contributing their highly advanced expertise to this transatlantic partnership.
The objective of the cooperation is to provide the American Army with absolute state-of-the-art technology, which characterizes the Puma.
The German-American partners will be bidding for the contract for the first of four phases to the GCV programme. In this development phase, the U.S. Army intends to award up to three contracts to different tendering companies, before drawing up a short list in subsequent steps for the actual solution to be realised.
The Puma, which KMW and Rheinmetall have jointly developed for the German Armed Forces and will be delivering from late-2010, offers the series maturity expected by the U.S. Army. In virtually every category the Puma satisfies the technical requirements of the GCV programme, even exceeding these significantly in key areas.
In addition the system will be further developed for the United States Army to accommodate a total crew size of 3 three, plus nine soldiers, a 40mm gun and weigh a total of around 50 tons. With its high level of protection, its mobility and outstanding mission capability, this GCV response will  in the same way as the performance features of the Puma  also set new standards. Furthermore, the vehicles will be built in the United States.
Get more information on Krauss-Maffei Wegmann.
Bewaren