persbericht 10 maart 2021 | automatisch vertaald met aanvullingen
Avon Protection is verheugd de lancering aan te kondigen van de CH15, een revolutionaire nieuwe, ultradunne draagbare escapehood van één maat die minimaal 15 minuten ademhaling, zicht en gezichtsbescherming biedt tegen chemische, biologische, radiologische en nucleaire bedreigingen.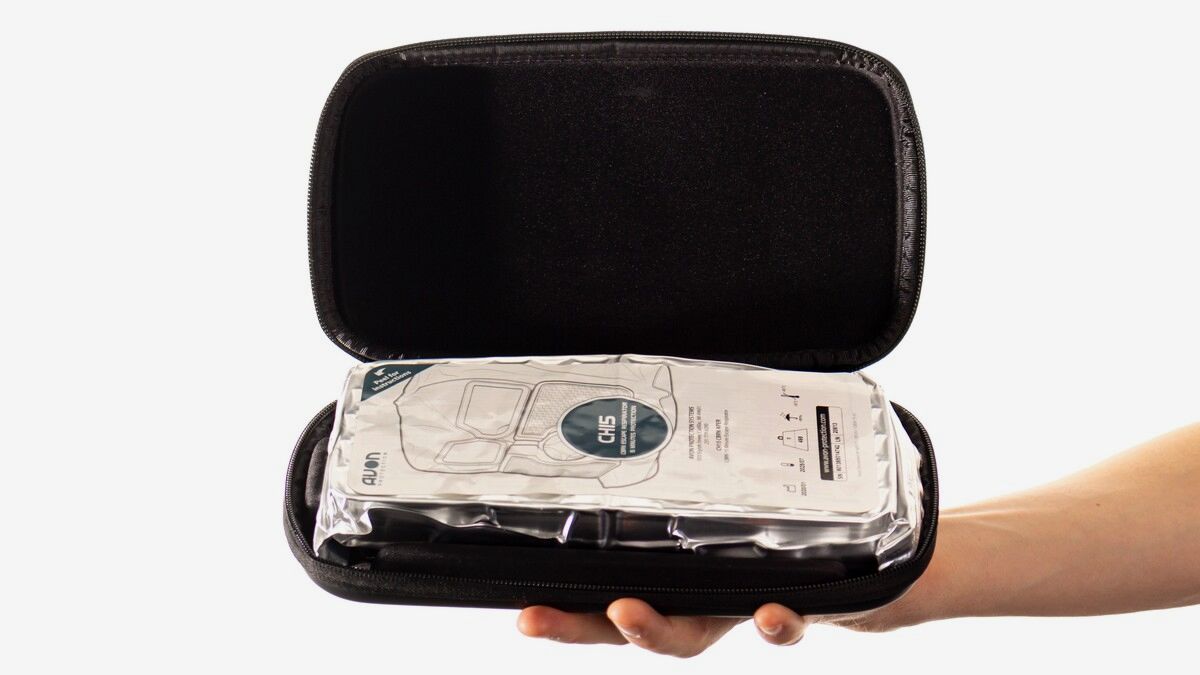 Het afgelopen decennium heeft duidelijk laten zien hoe het dreigingsprofiel aanzienlijk is veranderd. Tegenwoordig zijn de meeste bedreigingen niet gepland, de CH15 is een ontwikkeling die wordt aangedreven door een opkomende eis van gespecialiseerde gebruikers om onmiddellijke bescherming te bieden tegen al het CBRN-materiaal in een actueel bedreigingsscenario. De CH15 ontsnappingskap is ontwikkeld in samenwerking met The Combating Terrorism Technical Support Office (CTTSO) en biedt snel inzetbare ademhalingsbescherming voor militairen, eerstehulpverleners en beschermende details.
De vacuümverpakte CH15 komt met een eigen, discrete tas met ritssluiting. Deze kan met MOLLE aan een vest worden bevestigd maar is klein genoeg om in een jas- of broekzak te worden meegenomen. Het masker zelf zit in een vacuümzak met daaraan twee grote ringen waardoor het niet alleen makkelijk te openen is in een panieksituatie maar ook in net donker. Het masker kan binnen dertig seconden worden opgezet. James Wilcox vermeldde in de online product lancering vanochtend dat het mensen zelfs binnen negen seconden was gelukt. Daarna biedt het vijftien minuten volledige bescherming tegen alle CBRN dreigingen, maar ook rook en stof. Het heeft een spraakmembraam aan de voorkant die ook voorzien is van een reflecterend logo dat het hulpverleners makkelijker maakt om dragers in het donker te vinden.
In een reactie op de lancering van de CH15 zei Justin Hine, Global Product Manager: "De CH15 biedt een andere benadering voor het dragen van adembescherming, dit apparaat biedt wat geen enkel ander traditioneel gasmasker kan, een onopvallend, lichtgewicht, one size fits all oplossing dat klein en licht genoeg is om altijd te dragen. Deze unieke draagbare oplossing betekent dat de CH15 altijd bij de hand is voor het onverwachte."
De CE-goedgekeurde CH15 vormt een aanvulling op het toonaangevende portfolio van adembeschermingsproducten van Avon Protection en past bewezen technologie aan om hun meest compacte CBRN-beschermingsapparaat tot nu toe te creëren.
In een reactie op de lancering van de CH15 zei James Wilcox, President – Military bij Avon Protection: "Vermogen en bedreigingen evolueren altijd, bij Avon Protection werken we continu samen met onze klanten over de hele wereld om ervoor te zorgen dat we wereldleiders ontwerpen, ontwikkelen en leveren. oplossingen om ervoor te zorgen dat ze altijd over de juiste bescherming beschikken, ongeacht de dreiging. "
Meer informatie op de website van Avon Protection.