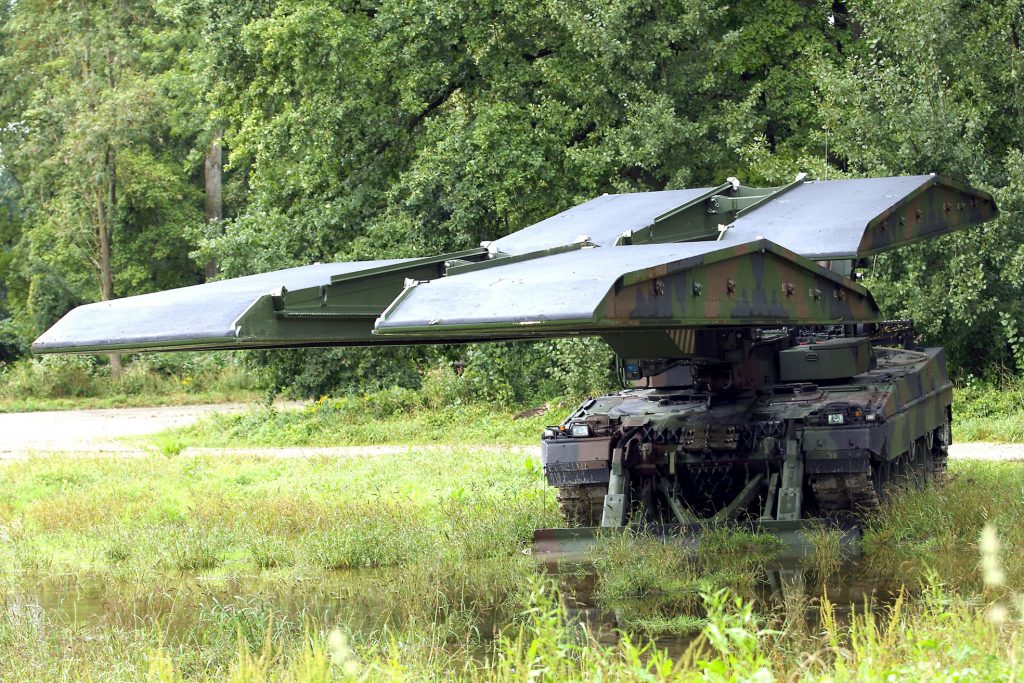 Munich/Koblenz, December 2016.
On behalf of the Dutch procurement office (DMO), the German Federal Office of Bundeswehr Equipment (BAAINBw) signed an agreement with Krauss-Maffei Wegmann (KMW) for the procurement of five Leguan bridge layer systems on Leopard 2 chassis on 20 December, 2016. The entire procurement plan also includes training simulators, accessory equipment and an option for additional bridge layer systems. The vehicles will be transferred to the Dutch army in 2019 and 2020.
This version of the Leguan is capable of laying and transporting two 14 metre long bridges or one 26 metre long bridge, even under combat conditions.
The Dutch army is the sixth user of the Leguan on Leopard 2 chassis. In total, armies from 17 countries operate the Leguan bridge layer system on various mobility platforms.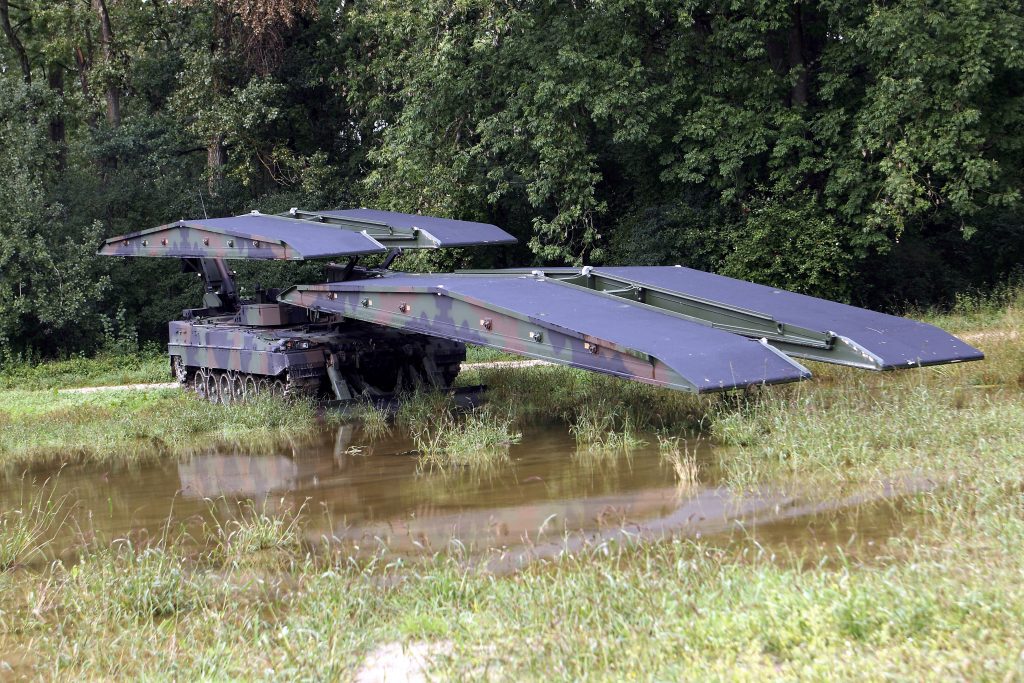 A broad range of applications, one unique solution.
The system LEGUAN LEOPARD 2 unites the well-known very high mobility of the LEOPARD 2 battle tank and the interoperability of the LEGUAN bridge laying system.
AVLB LEGUAN LEOPARD 2 – the universal flagship
The potential is complemented by the capability to lay two modern 14 meter LEGUAN bridges, as an alternative to the 26 meter bridge deployed all over the world. Besides the highest protection of the 2-man crew, the configuration as well as loading of the bridges is also possible at night.
The LEGUAN LEOPARD 2 offers the following features:
day and night vision equipment
laser distance measuring device
air conditioning
auxiliary generator
ballistic frontal protection
mine protection
command and navigation system
manual gun carriage MG 7,62 mm for self-defense
From this results an outstandingly protected, functional and modern weapon system, tested and proven, including all of the necessary peripheral logistical parts.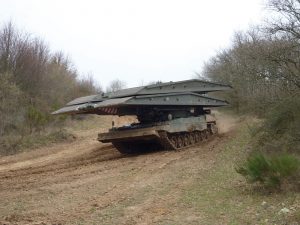 The new 14 meter LEGUAN bridge
In addition to the tested and proven 26m bridge, two 14m bridges can be configured and loaded independently of one another. These supplement bridges are also interoperable and enable, in combination with the 26 meter bridge, the highest degree of tactical flexibility on missions.
Disaster Relief Operation
Due to its flexibility and modular versatility, the LEGUAN is not only capable of military deployment but also ideal for the short-term reestablishment of civil transport infrastructure. For this purpose a special modification kit available, consisting of the following elements:
lateral railing equipment
central covering panels MLC 12
In addition, the bridge can be equipped with a measuring device, capable of detecting capacity overloads, therefore allowing for reliable conclusions about the remaining service life.