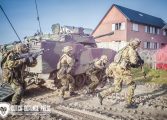 Featured
woensdag, 27 juni 2012
Featured
Optreden in verstedelijkt gebied transformeert zich rap van slechts een klein onderdeel van de manoeuvre naar...
Featured
Hard-fought lessons learned around the world confirmed the way the Royal Netherlands Army (RNLA) plan to...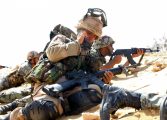 Featured
donderdag, 8 september 2005
Featured
Tanks in Marnehuizen. 'Gevechten in steden, dienen zoveel mogelijk vermeden te worden.' Dit was...
Featured
Twee Leopard II A5 tanks staan in de bosrand waar te nemen. Nadat ze een aantal rookgranaten hebben afgevuurd...