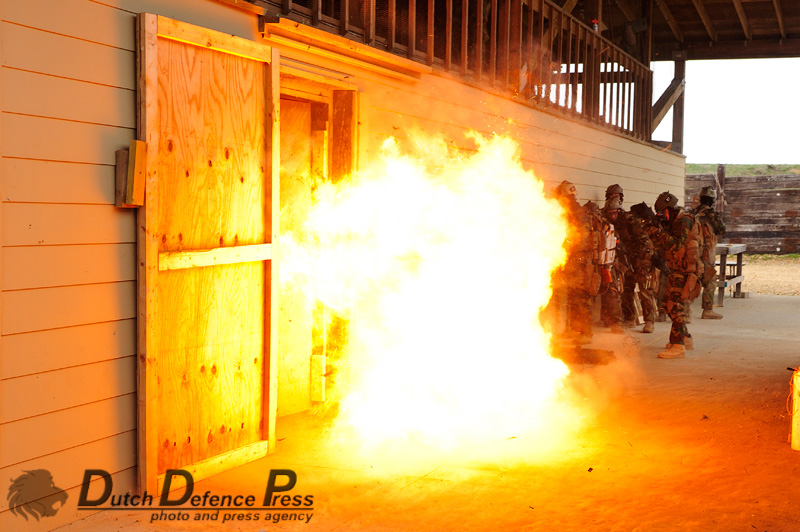 During Easter Dutch Defence Press joined in the United States a group of nineteen Dutch Special Forces (SF) operators from the Korps Commandotroepen (the Netherlands Army Special Forces Regiment) and two Belgium SF operators from the Para-Commando Regiment. It was during their three weeks stay at the Tier One Group training facility in Crittenden County, Arkansas. In this final phase of the basic Counterterrorism (CT) training course they turned the extensive 3.5 square kilometres of rural farmland in to a giant warfare classroom. When successfully concluding this rigorous training period of ten weeks they will become certified CT-assaulters or -snipers.
The myriad of direct action missions within the CT umbrella such as Hostage Rescue Operations are characterized by the fundamentals of surprise, speed, intelligence, operator's skill, deception, violence of action, security, flexibility, accurate and selective fires, and by planning at the lowest levels.
Therefore, during these ten exhausting weeks of training the operators conducted realistic training to ensure they can deal with the threats they will likely face in the future. All executed to a blueprint designed by the instructor staff of the "CT-Instruction and Trainings Group" of the Netherlands Army Special Forces Regiment. The instructors continuously anticipates the next evolution of conflict and adapts their core competencies to meet the ever changing operational landscape.
The training syllabi subscribes to the combat tested and widely accepted philosophy that mindset, marksmanship, and manipulation are the core skills of a tactical shooter. Therefore the operators receive specialized training in sustainment and enhancement shooting, tactics and military operations in urban terrain. They spend numerous hours on the firing range, developing the critical core skills that every assaulter requires from point-of-contact – the ability to rapidly acquire and engage adversaries in close quarters.This is where they master the effective techniques and strategies for smooth live- fire urban combat operations. Fast target discrimination is fundamental and arguably the most important skills in shoot or no-shoot scenarios during combat. Operators gain an integral understanding of how and why the cornerstones of mindset, marksmanship, and manipulation maximize survival and success. They internalize the practical application and receive the range-time necessary to physically and mentally commit them to memory. Without conscious feedback, there is no opportunity to build subconscious memory. With this kind of extensive training operators are able to develop superior and instinctive involuntary reflexes instead of relying on a conscious thought process — all while avoiding collateral damage.
For that reason, in a full basic CT training course each operator sends approximately 10,000 rounds of various calibre down range. This type of dense repetition develops exceptional reactionary shooters as they negotiate the various type of targets. Although 10,000 rounds may sound excessive, shooters actually need to shoot that many rounds in a short period of time to break old, bad habits and develop new, successful ones. Shooters are able to measurably increase their confidence and success in rapid and accurate (and discretionary) firing scenarios.
An extensive breaching course provide the demolition specialists with the knowledge and skill to make dynamic entries through various targets using the most current explosive, mechanical, or ballistic breaching techniques. It provide these specialists in the assault team with the knowledge, skill, and confidence to surgically gain positive entry into a semi or non-permissive target while maintaining the tactical advantage of surprise.
During my visit it was the second time in a row the "CT-Instruction and Trainings Group" of the Netherlands Army Special Forces Regiment make use of this discreet training facility of the Tier One Group (T1G) in the South of the United States. Located roughly 30 kilometres from downtown Memphis, it sits just a kilometre and a half down a tough-to-spot dirt road off Highway 64, beyond a row of farm equipment, signs that warn of live ammunition fire and is tucked snugly amid acres of farmland.
The comprehensive T1G training facility is on the cutting edge of proficiency and capability. What makes it unique is that it is one of the few private training facilities where Dutch SF operators can practice breaching, marksmanship, and many other skills all in one place with zero fire/noise restrictions. Due to the many restrictions found on Dutch government facilities this is not possible in the Netherlands. There are even no night restrictions. Therefore it can support the full array of critical training and exercise scenario's. It offers multiple ranges and facilities, including rifle ranges out to 1500 meters, steel reactive targets, vehicle and urban training facilities, and full-scale Afghan villages. It also has two configurable live-fire shoot houses that have over 1100 combined square metres where 360 ˚ live-fire can take place. The area surrounding both shooting houses features a 2,5 metres high compound wall with multiple explosive breach points. The houses possesses multiple ingress and egress points integrated to the site's road network.
Snipers can make use of a five-story-high sniper tower. It's constructed of steel shipping containers that have been stacked in a square structure, with each ascending level opposing the other.
To simulate the type of sandy terrain operators might encounter in the Middle East there is a 1200 square metres sand pit called a wadi that's filled with scrap metal, broken concrete and cars that have been blown up. About 275 metres from the sand pit ring the Afghan village. Shipping containers double as a market. Old furniture, mattresses and desks clutter rooms in the gated, multifamily compound. Spent rounds litter the pressed wood floors of the government compound and a mosque. Additionally, the outer compound walls, doors and gates of this village can all be explosively breached.
After three weeks the Dutch and Belgium newly certified CT-assaulter and -snipers leave the T1G training facility as trained as they possibly can be with no questions or doubts in getting ready to get into the fight when called up on. They leave with the skills, knowledge, and confidence to keep their names off the wall…
Dutch Defence Press thanks the Netherlands Special Forces Regiment who made this possible and for its hospitality.