The future is here — everything it targets is history. "Crusader" — a two-vehicle system consisting of a fully automated 155mm Self-Propelled Howitzer (SPH) and its companion Resupply Vehicle (RSV) — is currently being developed for the U.S. Army as its next generation Field Artillery System.
When fielded in 2008, Crusader will initially supplement and eventually replace the M109A6 Paladin SPH and the M992A2 Field Artillery Ammunition Support Vehicle (FAASV) in the U.S. Army inventory. Crusader is currently in the Program Definition and Risk Reduction (PDRR) development phase, and the first prototype howitzer, SPH1, began two and one-half years of live fire testing at Yuma Proving Grounds in Arizona earlier this year. SPH1 was developed as a firing test bed to demonstrate the Crusader SPH's capabilities in critical areas such as rate of fire, multiple round simultaneous impact (MRSI), accuracy, range, and rearm. Crusader is already demonstrating that it will shatter current perceptions of lethality, mobility, and survivability for Field Artillery systems as we know them.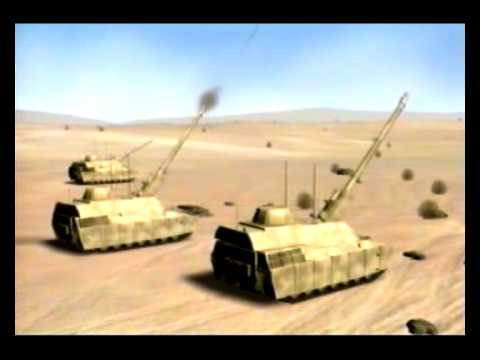 Full-spectrum dominance will play an increasingly important role in the battlefield of the future. Indeed, the U.S. Army's Transformation Strategy (Army XXI) is being driven by the concept of full-spectrum dominance, and the way to get there is to invest in and develop new military capabilities. The four capabilities at the heart of this transformation approach are dominant maneuver, precision engagement, focused logistics, and full-dimensional protection. In addition, ever increasing requirements for rapid deployment to diverse areas of the world and flexible relocation upon arrival are driving increased requirements for strategic mobility that have traditionally been addressed by the employment of towed artillery. To meet these future requirements, Team Crusader, led by prime contractor United Defense LP, has redesigned each of the Crusader System's tracked vehicles to weigh approximately 15 tons less. The redesigned Crusader vehicles will maintain their survivability, lethality, and overall force effectiveness capabilities, but will be significantly lighter and more compact.
The significant reduction in weight is achieved by reducing the length and width of the SPH and RSV, reducing onboard payloads, kitting the armor, changing the power plant and suspension, and modifying materials, structures and components throughout the vehicle. With these modifications, two Crusader vehicles can be globally transported by the C-17 Globemaster III or C-5B transport aircraft, significantly enhancing Crusader's mobility and enabling it to better support the full spectrum of the Army's missions. The redesigned Crusader SPH will carry 48 155mm projectiles and associated modular charges rather than the 60 projectiles carried in the current prototype, yet will still allow the system to meet all of its key performance parameters. Perhaps even more importantly, the redesign of the system is proceeding far more quickly than usual thanks to the prime contractor's ability to retain more than 85% of the original design and use its state of the art CAD/CAM, modeling and simulation, and virtual prototyping capabilities to expedite the redesign.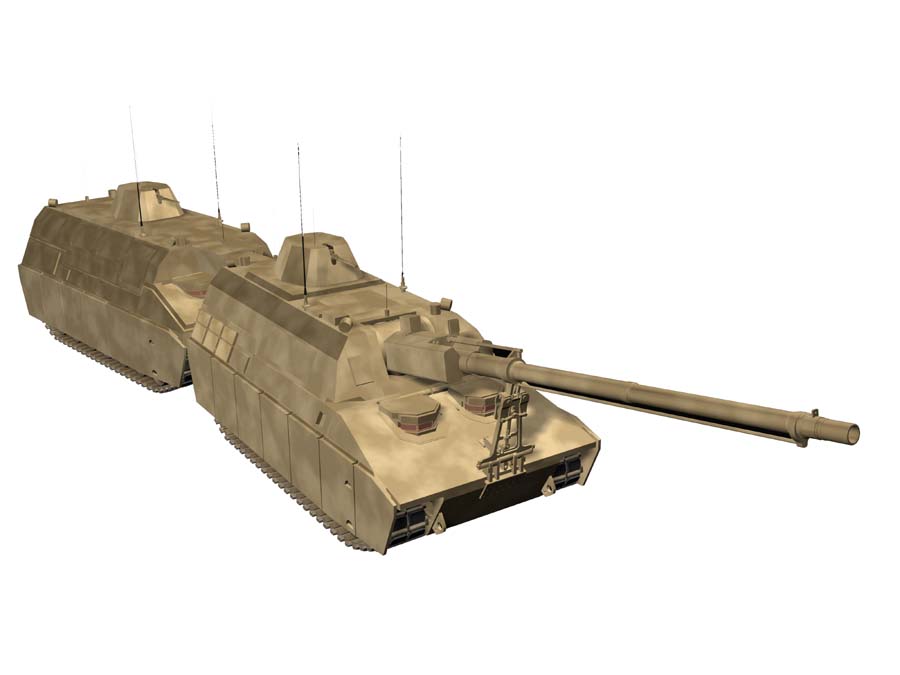 The Crusader SPH: The Crusader System's XM2001 155 mm self-propelled howitzer features a number of innovations that contribute to its ability to accurately deliver 10-12 rounds per minute at ranges from 5-40 kilometers. The Crusader Self Propelled Howitzer's advanced solid propellant armament system consists of the cannon, and gun mount; a laser ignition system; and an automated ammunition handling system. The cannon tube – to include the powder chamber – also employs an Integral Midwall Cooling system that enables the SPH to maintain extremely high rates of fire without overheating. Both the cannon chamber and the tube are chrome-plated to minimize wear and increase tube life. Chamber volume and shape have been tailored for compatibility with the Modular Artillery Charge System (MACS), an increment-based modular solid propellant charge system consisting of XM231 low zone charges and XM232 high zone charges. The MACS system is a key factor in the automated ammunition handling system that is so critical to both the howitzer and resupply vehicles' capabilities. In combination with other sub-systems, it permits Crusader to achieve unmatched capabilities in operational flexibility, range, rate-of-fire, accuracy, and logistics support.
The Crusader Self-Propelled Howitzer 1 (SPH1) prototype is currently undergoing firing tests at a U.S government test range in Yuma, Arizona, and has successfully demonstrated its ability to fire in excess of 10 rounds per minute in a fully automated mode. This high rate of fire combined with the SPH's automated ballistics calculation and fire control system enables it to execute Multiple Round Simultaneous Impact (MRSI) missions. To accomplish this, the digital Fire Control System calculates a unique trajectory for each projectile by varying its muzzle velocity, azimuth, and elevation. By firing the initial round high and slow and firing subsequent rounds lower and faster, the system can fire up to eight rounds and have all of them land on target at the exact same time. This capability enables a battery of six Crusaders to accurately attack a target with up to 48 rounds simultaneously, and to deliver a total of more than 14 tons of munitions in less than five minutes. On 8 November, SPH1 successfully fired its first Multiple Round Simultaneous Impact (MRSI) Mission at Yuma Proving Ground in Yuma, AZ, landing four rounds within two seconds of each other, on a target seven kilometers from the howitzer.
Crusader's automated ammunition handling system is a key technology enhancement that enables the howitzer to achieve its unprecedented rate of fire. In addition, it precludes the howitzer crew from ever having to handle a round – even during resupply operations. The only time ammunition is handled by a Crusader crew is when the RSV is uploaded at an Ammunition Resupply Point. The same automated ammunition handling equipment that receives and stows ammunition from the RSV during howitzer resupply operations is used to prepare ammunition for firing and to load the howitzer. The Automated Ammunition Handling System's software receives data such as type, weight and lot for each projectile and propellant charge from the RSV during resupply and links it to the stowage location for subsequent use by the fire control system. The bi-directional projectile magazines have been designed to enable any type of round (currently HE, White Phosphorus, Smoke, DPICM, Illumination, SADARM, and – when fielded – the XM982 cargo round) to be stored in any location and still be accessed quickly enough to meet maximum rate of fire requirements. In other words, projectiles do not have to be grouped by type or stored in particular locations. When conducting a fire mission, the howitzer's automated ammunition handling system selects a projectile to be fired and rotates it to the front of the magazine so that a shuttle that moves back and forth between the howitzer's two active magazines can remove it. The shuttle transports the projectile to the center of the howitzer and transfers it to the load-arm that has dropped down to receive it. An inductive fuze setter on the shuttle automatically sets the fuze as it is moving the projectile from the magazine to the load arm. The propellant loading system selects the proper charge increments in parallel with the preparation of the projectile and places them on the same load arm in preparation for loading. The order in which projectiles and propellant are placed on the load arm varies depending upon whether the mission is low angle or high angle. For high angle missions, projectiles are accessed just prior to loading so that the load arm can be accessing propellant for the next round while the gun is firing thereby ensuring that it is not in the recoil path. For low angle missions the order is reversed and the load arm is below the recoil path while it is picking up the next projectile to be fired. Even when the system is engaged in intense fighting, the onboard systems are able to keep track of exactly how many and what types of projectiles and propellant remain, and the selection of the ammunition to be fired is done automatically in a manner that maximizes the system's rate of fire. The crew can monitor status with the push of a button, but they do not have to actively participate in the process. To do so would actually slow the system down, so instead the crew follows the flow of the battle via digital updates that are graphically displayed on individual display consoles, conducts local security operations and plans future moves. The crew's job is to keep abreast of the situation and be prepared to position the howitzer to optimize its ability to provide fire support while simultaneously ensuring its survivability.
The howitzer's high level of automation enables its crew size to be reduced to only three men, and it can be easily operated by two men to enable crewmembers to rest during extended operations. It is also possible to operate the howitzer with only one crewmember during emergency operations. The state of the art cockpit provides advanced electronics and decision aids that enable the crew to monitor system performance; stay abreast of the tactical situation via detailed, graphically-displayed situational awareness data; and interface with on board position and navigation systems, communications systems, sensors, and defensive armament. Crusader automatically processes fire missions and fire support coordination measures (FSCMs) received from the Advanced Field Artillery Tactical Data System (AFATDS). FSCMs are automatically applied to digital maps and displayed on demand for the crew, and fire missions are processed and fired upon approval by the gunner via a push of a button. Both the howitzer and the resupply vehicle share a significant number of common subsystems and components to include identical, reconfigurable crew stations. Once a soldier is trained to operate and maintain one vehicle, he can quickly and easily adapt to the other.
The Crusader Tracked RSV: The Crusader System's XM2002 Tracked Resupply Vehicle (RSV) has more than 60% of its subsystems in common with the SPH, including a completely identical mobility subsystem. The roll-in/roll-out power pack is a LV100 turbine engine designed by Honeywell-GE combined with an Allison X5060-3 transmission. The RSV's fully-automated ammunition handling subsystem shares its basic design with the SPH for projectile and propellant magazines; the RSV's magazines only differ in size and quantity since they must carry enough ammunition to fully resupply two howitzers. Instead of a 155mm cannon, the RSV's Mission Equipment Structure contains an extendable boom system that enables it to dock to the rear of an SPH or another RSV and transfer ammunition and fuel automatically. As projectiles and propellant are transferred, associated data pertaining to type, lot, and weight is also passed between vehicles via a secured data transmission link. The RSV's three-man crew can load the vehicle with its full complement of 100 projectiles, propellant, and fuel in less than 65 minutes as specified in the system requirements. The system automatically stows the munitions and keeps track of associated data as well as stowage locations. Projectiles and propellant can be stowed in any order in any magazine and still be accessed in the required time necessary to enable full howitzer resupply with 48 rounds in less than 12 minutes.
The Crusader Wheeled RSV: When the U.S. Army decided to redesign the Crusader prototypes to enhance strategic deployability through weight reduction, a wheeled version of the RSV was also undertaken. The Crusader wheeled RSV will be even lighter than the tracked version, and it will enhance system flexibility in areas with good roads and infrastructure systems. Half of the Crusader systems (SPH and RSV combined) will be fielded with tracked RSVs and half will be fielded with wheeled RSVs. Employment options will depend on the infrastructure of the area where the systems are deployed, with one possible scenario being use of wheeled RSVs to travel at high speeds on roads to bring ammunition forward for automatic transfer directly to SPHs or to tracked RSVs that will then transport the ammunition forward over unimproved terrain to the SPHs.
The wheeled RSV uses the same basic projectile and propellant magazine components as the tracked RSV along with a modified shuttle, elevator and boom mechanism. The wheeled RSV's automated ammunition handling system is housed in a specially modified Palletized Loading System (PLS) container called a Resupply Module (RSM). The RSM has the same exterior dimensions as a standard PLS container and any standard M1075 PLS Truck can carry it, however, the similarities stop there. The RSM has unique external access doors, is completely modified internally to incorporate the automated ammunition handling system, and it also contains all necessary interfaces to a wireless RSM controller as well as an integral power supply so that the PLS truck does not have to be modified with anything other than radios. This approach maximizes flexibility, since the RSM can be carried by any standard M1075 PLS Truck. The boom extends from the RSM for uploading and resupply operations.
Conclusion: The Crusader system is a truly revolutionary fire support system that is designed to provide extremely high rates of responsive, accurate, long-range fires. The extensive use of automation not only enables Crusader to achieve unprecedented performance, but also radically changes the role of its crewmembers. Rather than perform manual tasks as they do on current howitzer systems, the Crusader's SPH and RSV crews fight their vehicles from within the protected confines of an advanced cockpit using graphical displays of the tactical situation, state of the art communications and command and control systems, and interactive decision aids that help them keep their vehicle alive and positioned to optimally support the maneuver battle. The Crusader system restores combat overmatch capabilities to the U.S. Army's cannon artillery and creates a fire support force that can consistently operate inside the decision cycle of current and future adversaries. Fielding the Crusader remains a top priority for the U.S. Army, and plans call for the first Crusader unit to be fielded in 2008.
As NATO nations assess their changing fire support requirements while simultaneously seeking solutions for dealing with aging artillery systems that demand large crew sizes and heavy training and logistics burdens, Crusader becomes an intriguing solution on the horizon. The question becomes one of whether a new howitzer based upon old technology should be bought today, or whether preparations should begin to be made to transition to a significantly more capable and versatile system that is just around the corner. There are many who think that a prudent approach would be to upgrade existing systems to enable them to serve for a few more years while simultaneously being used to develop tactics and train crews to operate as independent fire units as they will with technologically advanced systems such as Crusader. This is the path that the U.S. Army has chosen and it is certainly a compelling one. The future of fire support is undergoing firing tests in Yuma right now, and it will be available for fielding before we know it.