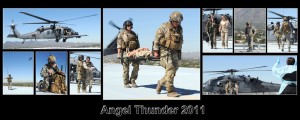 "Preparedness doesn't come without practice"
Courtesy of United States Air Force
From October 9 through October 21 in southern Arizona, the so called 'Grand Canyon State' of the United States of America (USA), 'Angel Thunder' was the name of the game for all players in a Personnel Recovery (PR) and medical evacuation exercise. Angel Thunder is an exercise where search and rescue entities conducted hands-on emergency response training to increase proficiency in dealing with all kinds of imaginable search and rescue operations, and got to hone their unique combat search and rescue (CSAR) skills. The arid landscape around Davis-Monthan Air Force Base, the jagged mountains of the Sonoran Desert with stunning valley's and remote vistas, set the stage for this impressive training event.
This story not only describes the exercise itself, but it's also about the sweat, toil and sacrifice of selfless men and women who are too few in number, are deployed too often and can never receive enough recognition.
Angel Thunder is an impressive undertaking that prepares participants for a wide range of rescue missions but most importantly, the mission of preserving life.
"The whole exercise is built from the start by the CSAR community from the grass roots level up and is designed to simulate deployment conditions and contingencies, to provide an opportunity to practice CSAR manoeuvres and provides a forum to discuss logistics and work out any problems", said Mr. Brett A. Hartnett [1], a man who is, besides the founding father of this event, the project officer and lead planner of this world premiere search and rescue exercise.
"Barely a year after Hurricane Katrina devastated New Orleans, Angel Thunder began mid 2006 as a local endeavour without a budget at Davis-Monthan Air Force Base (D-M AFB), home to the 563rd Rescue Group. Nonetheless the success of this first humanitarian exercise, focussed on rescuing people from natural disasters quickly resonated throughout the PR and CSAR community. Until 2006, no dedicated United States Air Force (USAF) exercise providing realistic CSAR Task Force (CSARTF) training existed. So it was subsequently no surprise the USAF Air Combat Command (ACC) shortly afterward decided to take over the event to expand its training objectives with CSAR missions, such as rescuing pilots shot down to improvised explosive devices striking convoys.
As a result Angel Thunder evolved rapidly from the initial local five-day exercise, with barely 200 participants and a few aircraft, into the two-week world's largest PR exercise as we know it today. In 2011 there were approximately 1,400 people from U.S. military, federal and state employees, coalition forces, and over 40 aircraft involved. Local participants included two hospitals, three sheriff's offices, a fire department, and three universities.
Sixteen different countries spent time and money to be a part of this exercise, individuals from Australia, Canada, Columbia, Denmark, France, the Netherlands, Pakistan, Singapore, and Sweden as actual players who were working alongside American forces throughout each phase of the exercise, while individuals from Chile, Egypt, El Salvador, Lebanon, Peru, Uruguay, and Qatar came to observe impressiveness in action."
Following the success of Angel Thunder in 2006, D-M AFB proved to be the most logistically sound location to host the exercise onwards, since it's surrounded by thousands of square miles of desolate, inaccessible desert and embedded with various training resources. Para-rescue operations, survival evasion resistance and escape instruction, unique desert environments, an urban training complex, and numerous helicopter, fixed wing transport aircraft and weapons capabilities are ideal training elements for this type of exercise.
Desert Lightning City, the base's own simulated deployed location, housed the Rescue Operations Centre (ROC), the imperative command and control hub to effectively run this impressive PR exercise.
The areas of response during Angel Thunder 2011 spread all across southern Arizona and south-western New Mexico. The rescue-operators had to deal this year with a series of extreme scenarios, incorporating all aspects of conventional and unconventional military types of CSAR, civil and political personnel recovery. All of them were getting the most real-world experience and practice to simulate a comprehensive response to the recovery of military personnel in hostile environments, civilians affected by nearby combat and disaster/humanitarian relief operations.
The scenarios ranged from capsized boats, downed helicopters and survivors taking fire, an Ambassador in need, stranded personnel, an earthquake-stricken host nation, to a mass casualty drill. These scenarios tested the realistic theatre spin-up capabilities of the players involved and examined the integration of all assets in mission planning procedures and mission execution.
A unique part about the exercise was that its tailored to the customers' needs. After all the ideas came from the lower levels and bubbled up. Units that participated got together in the initial planning conference and told what they wanted to practice. The leaders did not dictate what the training would be, the participants did. When the planning was complete, a huge list of objectives was ready to be met, maximizing the joint/combined force integration.
To give an extra dimension to training the rescue-operators encountered in each scenario role-players with simulated injuries, while having a person to work on instead of a dummy that's just going to lie there makes the training more true to life.
Some had serious looking bruises covering parts of their bodies, red and purple were the colours of choice to replicate bruising. Others had fake injuries that were more advanced than bruises. Cuts, gashes, open wounds and bone protrusions are in this case the decorations of choice beneath their clothes, resulting in torn uniforms and blood soaked shirts. Gels and modelling wax was used to simulate blood and cuts.
The more detail applied to the simulated wounds the more it gave the training a livelier affect that puts things in perspective. The card that each victim carried described the type of injury they have, but also included the level of pain they would be experiencing. A one out of 10 would perhaps be minor discomfort or very little pain, whereas 10 out of 10 would be excruciating. The rescue-operators involved in the exercise had to identify the injuries and apply the proper measures to bandage them up.
The casualties are classified by the operators as Category A, Cat. B, or Cat. C. Cat. A basically means the soldier is probably going to die, lose a limb, or lose his eyesight if not quickly treated. Cat. B is more like someone who's gotten shot in the foot. It's a big deal, but not immediately life-threatening. Cat. C might be some kind of non-life-threatening illness or a broken finger.
The PR business is an extremely important one, while recovering people out of harm's way in the most treacherous locations is a universal moral imperative. Every service, agency, and nation has, or at least should have, an obligation to their personnel to prepare, plan, execute and adapt their PR capabilities. The British Armed Forces for instance have MERT's (Medical Emergency Response Teams). In the U.S. military this is primarily an USAF service core function.
For the ground recovery teams, which include members of the USAF Guardian Angel & Special Tactic teams, often called Pedro's [2] , this is all about the ability to go in and save, or extract, anyone in any place, at any time. Their job is one of the most demanding in the military. Mainstay of these Pedro's is the Guardian Angel Weapons System, or GAWS, that consists of combat rescue officers (CRO's), Pararescue Jumpers, or PJ's as they are known in the service, and survival, evasion, resistance and evasion specialists or SERE, who are tasked with this important ability.
This group of Air Force elite warriors are the nation's first responders, and is the only one in the U.S. Military specifically trained and equipped to conduct conventional and unconventional warfare and rescue processes, making them the ideal force to handle PR and CSAR operations.To accomplish this mission, PJ's deploy around the world via the air, land and sea into a wide range of environments (forest, desert, jungle, arctic, ocean, etc.) to extract, treat, stabilize and evacuate injured personnel back to infinitive care where an IDMT (Independent Duty Medical Technician) will then take over. Whether it be troops pinned down and injured, or reaction to a massive earthquake, the Pedro's are always standing by and ready to go at any time, and do whatever it takes to get the job done.
Along with helicopters, A-10 Warthog's and fighter jets circling above, a host of specialized equipment accompanies each Pedro team on every mission. Before PJ's hit the ground, they rely on these fully loaded planes and helicopters to help them reach their destination. Their first choice, the HH-60G Pave Hawk, a modified Black Hawk helicopter, is the perfect combination of speed and manoeuvrability to navigate challenging terrain.
PJ's refer to these helicopters as 'our ride to work'. It's the only helicopter specially designed for the unique airborne rescue missions, both civilian and military, hundreds of miles into enemy territory. It's equipped with weather radar and anti-icing systems to handle every condition, advanced night-vision technology and automatic flight control, and two powerful machine (mini)guns.
The PJ's are also armed to the teet. Machine guns and sniper rifles are critical for these small teams, which often face off against larger groups of combatants. In their rescues, PJ's aim for speed and accuracy. But because the HH-60G can even refuel in-air and then return to battle, crews can buy extra time if they need it.
Each branch of the military hold the PJ's in high regard. Firstly, the PJs are among the best medics in the U.S. military. Secondly, PJ's go through just about any combat training available, ranging from HALO to mountaineering to scuba.They train for a quick snatch-and-grab of an injured personnel, where they do a quick air land from the helicopter, get out on the ground, pull security, find out the patient status, grab him and get him on the helicopter as fast as possible. It usually takes less than a minute.
So there is only one thing that soldiers love more than mail and that's Pedro. They are a great morale booster because the soldiers know when they take casualties, Pedro is coming with miniguns and incredible medics.When other helicopters are grounded by bad weather, Pedro goes. When bullets are flying, Pedro comes in with miniguns blazing, unleash a torrent of gunfire from the air to clear the area of enemy combatants.
Because of the unique nature of his job, PJ's receive exceptional training and qualification in a variety of combat, search and rescue and medical support expertise. They are among the most highly trained emergency trauma specialists in the U.S. military and they must earn and maintain an emergency medical technician paramedic qualification throughout their careers.
Much like special operators in other military branches, including Army Green Berets and Navy SEALs, PJ's are selected after a gruelling process that weeds out anyone who can't perform each of the required 250 core skills, and need to pass a fitness exam far more difficult than what's expected of other military personnel.
A two to three year program, called 'the pipeline' and informally dubbed 'Superman School', graduates a mere 10 percent of enlistees, all of whom must be male. Passing the training program is only the beginning: Once they're vetted for the unit, operators train every single day. "We train like we fight and we fight like we train," said Staff Sgt. Mark, a PJ who estimates he's executed more than 300 rescue missions during three deployments to Afghanistan. "Skills can fade very fast. The ones we have are so highly technical that we need to keep them honed to perfection."
Their motto, "It is my duty as a Pararescueman to save life and to aid the injured. I will be prepared at all times to perform my assigned duties quickly and efficiently, placing these duties before personal desires and comforts. These things I do, that others may live", reaffirms the PJ's commitment to saving lives and self-sacrifice. It echoes the warrior ethos.
After flying more than 800 hours, running about 400 scenarios, and making approximately 200 rescues participants in Angel Thunder 2011 touched down for the last time Thursday October 20, bringing the personnel recovery and rescue exercise to a close.
Countries choose to participate in Angel Thunder for different reasons. Swedish Air Force Ranger Tech. Sgt. Robert said that his country has been developing a CSAR ground team and came to Angel Thunder to see how the missions were conducted from start to finish.
Pakistan Air Force Captain Farhat, training director, said they were sent to learn more about CSAR tactics due to recent national disasters in their area.
For Senior Airman Jason, a 306th RQS pararescueman, it was an excellent experience to work with other agencies and see how they operate. Being his first Angel Thunder exercise, he got to experience firsthand via the complex nature of CSAR operations how units work together to complete the mission. Especially the larger picture in CSAR operations, such as the de-confliction of air space and coordination of other rescue teams and assets were an eyeopener for him. It definitely fine-tuned his skills and it added on new skills to prepare him to perform his duties better for future deployments.
Captain Willem from the Royal Netherlands Army Special Forces Regiment said they work in Afghanistan with different countries while conducting CSAR missions. He sees the benefit of learning and making mistakes during exercises like these, versus on the battlefield where lives are on the line. Therefore he thinks it's better to come to exercises such as Angel Thunder to get experiences with these different assets so that you aren't 'learning on the job' during an operation.
Royal Danish Air Force Master Sgt. Brian, a CSAR course instructor said the environment in Arizona is similar to that of Afghanistan so it gives them an opportunity to train in terrain that they do not have in his country. Being at Thunder Angel also gave them the chance to fly longer missions. Denmark is a small country, so they don't fly long hours while at home.
For Royal Canadian Air Force Sergeant Richard, a pararescue school instructor, was was getting to know other countries and picking their brains about how they conduct their CSAR missions, a great way to get an overview of the entire rescue operation. No amount of research can match going and practicing in these events.
Perhaps Angel Thunder is not the the best name picked for this exercise, while in a perfect world, a combat rescue mission wouldn't be thunderous at all. It wouldn't even be loud. The good guys would sneak quietly into bad-guy land, snatch up the survivor and get out without making many decibels.But that's a quibble.
"Regarding the exercise we were also always known for staying really quiet and not really saying much", says Brett Hartnett. "However, this year with the Obama administration seeking 10 percent, or $450 billion, in defence cuts over the next decade I realized that is not such a great strategy. So I pushed for public exposure through the media. I think there's concern everywhere that money might disappear, and we're as concerned as everybody else. We're the same guys who do the Katrina's, the Rita's, the pulling people off of Mount McKinley, are the same guys doing the combat rescues in Iraq and in Afghanistan.
This two-week exercise costs less than $2.5 million, a pittance to the military. It's a very low-cost exercise because it's based on networking, rather than reinventing the wheel. We've quilted together facilities, locations, governments and agencies. People just don't realize what this exercise really is about until they see it. Once you see what this is, people are pretty amazed. I call Angel Thunder not for nothing the 'biggest bang for the buck in training dollars'."
The wars in Iraq and Afghanistan have called heavily on the unique skills of the Pedro's. Since 9/11, they are credited with saving at least 1,000 lives in combat zones.
This time, the 'aid workers' were not in distress and the rescue-operators were not under fire. But the next time, when an aid worker is in danger or service member is under fire, rescue operations are likely to be faster, smoother and safer because of what has been learned during Angel Thunder. All participants can walk away with the most robust training experience and comprehensive lessons learned possible, and apply it in a future deployed environment. Angel Thunder is simply the best and most challenging venue to experience a holistic personnel recovery response without being in an actual rescue situation.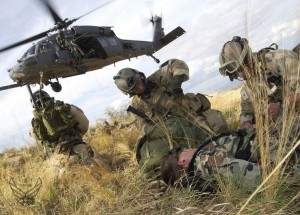 ---
[1] Brett Hartnett is a former Air Force Command Pilot and distinguished Combat Rescue Pilot . He retired as a major in December 2010, with more than 4,000 flight hours and 91 lives saved. He was the key-force in creation of the Rescue Operations Centre (ROC) and served as ROC Chief for Hurricanes Katrina, Rita, Gustav, and Ike. He originated and directed Resolute Angel, the first of its kind 'Whole of Government', Defence Security Cooperation Agency (DSCA) mass casualty exercise. He further designed, planned and produced the largest NATO Partnership for Peace (PfP) air exercise 'Cooperative Key'. Over the years Hartnett built up an extensive experience in requirements analysis and management of other FLAG level exercise programs to include Red Flag, Cope Thunder, Arctic Sarex, and various CSAR exercises. Brett Hartnett also executed the highest sustained combat rescue operations tempo since Vietnam as a 'Pedro' Commander in Afghanistan.[2] As to the nickname 'Pedro': it's a legacy call-sign that reaches back to the early 1960's and the HH-43 helicopter to identify it crews in flight. The HH-43 was the first USAF SAR helicopter in the Vietnam war, the last USAF SAR helicopter to leave Vietnam, and it was credited with more combat saves than either the HH-3 or the HH-53 'Jolly Green Giants'. This is remarkable considering the HH-43 was unarmed, very small, had a relatively short range and its rotor blades were made of wood. But, the men who flew on it were made out of steel.
The following nine video's shows actual footage of various scenario's and interviews during Angel Thunder 2011, and last but not least one video from 'The Daily' that says it all about the USAF elite Guardian Angel & Special Tactic teams: