donderdag, 22 augustus 2013
woensdag, 26 oktober 2011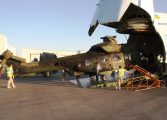 News
woensdag, 30 september 2009
News
Geïmproviseerde bom eist opnieuw een Nederlands leven in Uruzgan Amper een etmaal nadat korporaal Kevin van...
Featured
"Een goed leider is alleen directief als het moet". Tijdens Task Force Uruzgan wordt een groot beroep...
Featured
Ze zijn er altijd van; of beter, altijd van geweest: de pantsergenisten van 413 Pantsergeniecompagnie . Met...
Featured
Soldiers are the Armed Forces most precious assets. Today, these same soldiers must deploy anywhere in the...
dinsdag, 26 september 2006