Munich/Koblenz, 23 February 2021 – persbericht | automatisch vertaald
Krauss-Maffei Wegmann (KMW) gaat het Israëlische TROPHY-beschermingssysteem installeren in de Duitse LEOPARD 2 gevechtstanks. Het contract werd op 22.02.2021 ondertekend met het federale kantoor van Bundeswehr Equipment, Information Technology and In-Service Support (BAAINBw) en de staat Israël.
Het systeem is in staat om binnenkomende projectielen te vernietigen voordat ze een tank raken. Samen met de Israëlische fabrikant Rafael heeft KMW het TROPHY-systeem aangepast aan de LEOPARD 2 A7 en samen met de BAAINBw en de Duitse gebruiker getest.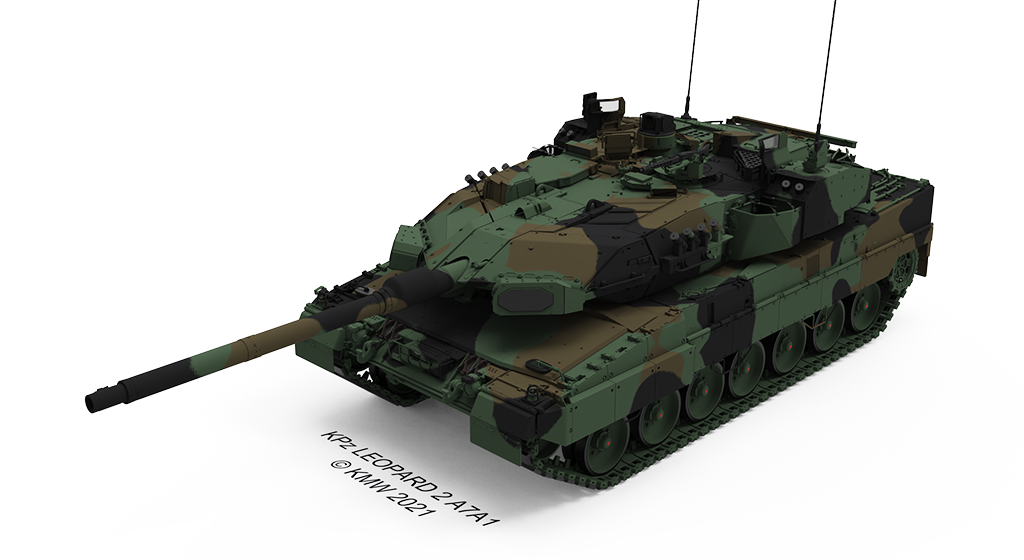 Naast installatie omvat het contract ook training en services. De integratie van TROPHY zal in 2023 worden afgerond.
Trophy APS is ontwikkeld door Rafael als reactie op succesvolle anti-pantseraanvallen en biedt volwassen, in de strijd bewezen bescherming tegen raket- en raketdreigingen en lokaliseert tegelijkertijd de oorsprong van het vijandige vuur voor onmiddellijke reactie. Trophy is de enige volledig geïntegreerde, in gevechten bewezen APS ter wereld en is sinds 2010 geïnstalleerd op de Merkava-tanks van de Israel Defense Forces, evenals op de Namer APC's. Trophy heeft talloze gevechtsonderscheppingen uitgevoerd zonder verwondingen aan bemanningen of afgestegen troepen of schade aan platforms sinds de eerste operationele onderschepping in 2011. Trophy heeft meer dan 1.000.000 bedrijfsuren verzameld, waaronder 5.400 succesvolle veldtests, en staat nu onder contract voor serieproductie van meer dan 1.800 systemen.
Dr.Ran Gozali, EVP en hoofd van de land- en marinedivisie, Rafael: Duitsland sluit zich aan bij een exclusieve groep van geavanceerde tier-1-landen die Trophy APS hebben gekozen om hun troepen en middelen te beschermen tegen de steeds toenemende dreiging van anti-bepantsering oorlogvoering. We zijn de Duitse regering dankbaar dat ze zich bij andere gebruikerslanden heeft aangesloten en voor hun vertrouwen in ons systeem en onze ervaring, en we kijken ernaar uit om met KMW samen te werken aan de integratie en installatie van Trophy op de Leopard 2 en op toekomstige platforms.