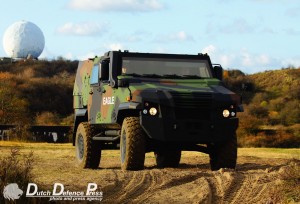 Mowag GmbH, part of General DynamicsEuropean Land Systems, attended recently the 'Dutch Foundation for the Industry of Defence and Security' (in Dutch: Nederlandse Industrie voor Defensie en Veiligheid (NIDV)) symposium and trade exhibition in Rotterdam, the Netherlands. During this event, that took place on December 1 for the 23rd time, the company displayed its next-generation 'EAGLE' 4×4 light tactical vehicle for the first time in the Netherlands. Members of the Dutch Armed Forces were invited the following day to have a closer look at the new EAGLE. This exclusive presentation and try-out took place behind 'The Netherlands Organisation for applied Scientific Research' (TNO) location in The Hague.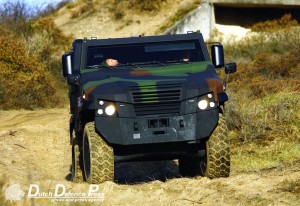 The annual NIDV symposium is renowned country-wide and many representatives of government organisations are usually in attendance. During the symposium, expert speakers give presentations on the NIDV's annual theme. 'Security beyond borders', 'From contact to contract', 'Security and the business sector' and 'Rich in Opportunity' are just a few examples of the themes that have been highlighted in previous years. This year's theme was: 'More innovative and secure together'. The trade exhibition is also an impressive event. It offers government bodies, defence organisations and international business an insight into the latest technological developments in the field of defence and security.
So for good reasons, General Dynamics European Land Systems-Mowag (GDELS-Mowag) choose this event as the place to be in the Netherlands to unveil their latest innovation in the lighter armoured vehicle category – the new EAGLE, or rather yet another EAGLE. While by no means this new EAGLE put an end to the production and marketing of the previous EAGLE IV model, as proven by the various and recent repeat orders by the German Federal Office of Defense Technology and Procurement (Bundesamt für Wehrtechnik und Beschaffung, or BWB). Their latest order from April 6, 2011, for a batch of 22 ambulance versions, brought the total EAGLE fleet on order by the BWB to 495 vehicles. The protected ambulance version ordered is known in the German Army (Bundeswehr) as the 'EAGLE Bat' (Beweglicher ArztTrupp), and can accommodate one stretcher, the driver, the vehicle commander and two medical attendants. The first 25 EAGLE IVs were ordered back in July 2008 under an urgent operational need for use in Afghanistan for 'Category 2 Armoured Command and Operations Vehicle' or GFF2 (Geschützte Führungs und Funktionsfahrzeuge 2) in the German abbreviation, as part of a total first requirement for 198 vehicles, with the remainder of this need being brought under contract in November 2008. This was followed by a first order for 20 ambulance versions in November 2009, and subsequently by repeat orders for 60 GFF2 patrol vehicles in April 2010 and another 195 GFF2 patrol vehicles in December 2010.
Among the latest orders, 60 vehicles will add to the previous fleet, of these, ten will be painted blue and will be deployed to support the German Federal Police (Bundespolizei) in Afghanistan. GDELS-Mowag delivered the last vehicle of the batch of 198 in September 2010 three months ahead of schedule; the first vehicle was deployed to Afghanistan in May 2009.
Before I discuss the new EAGLE more in detail, a short leap back in time. Operations in the 1990s were already showing a considerable threat from mines. Subsequently the development of light vehicles capable to withstand both ballistic and blast threats lead among others to the success story of the 'High Mobility Multipurpose Wheeled Vehicle' (HMMWV) family, better known as Hummer or Humvee. Designed during the 1980's for a war that thankfully remained what it was (cold), the vehicle got its true acid test during the first Gulf war (operation Desert Storm) in 1991 and in former Yugoslavia. Those two theatres revealed a new type of warfare and, as for many other vehicles, called for a serious second look at crew protection. In 2003, in the aftermath of the second Gulf war (operation Iraqi Freedom), the increased number of attacks against soft-skinned vehicles sparked off a steady increase to Humvee up-armouring, with other nations also providing better-protected vehicles to their troops. However, while the ballistic threat was met relatively easily, the increasing use of mines and improvised explosive devices, or roadside bombs, by insurgents in Iraq and Afghanistan (the two major current theatres of operations), started to, again, steer vehicles development in a different direction. This includes under-body and perimeter ballistic protection. It had started the MRAP era, where MRAP stood for 'Mine Resistant Ambush Protected'. Considerable ground clearance, V-shaped hulls and safe crew cells were the main characteristics of these vehicles. However, since their inception, the constantly increasing threats had a spiralling effect on their weight and volume. The increasing amount of personal equipment and embarked electronic gear have also played a major role in the weight and volume inflation. Dimensions which gradually started to hamper their mobility. Most of these vehicles were designed to operate mainly on roads, and thus significantly lacked cross-country mobility. But far gone are the times when units were to be deployed in predictable places. Nowadays the confrontation with unpredictable scenarios means that no one can forecast what maximum vehicle width and weight will be required to meet the challenges of future operational theatres. Operating often off roads, in mountainous terrain, commanded a major change in the MRAP design. In this scenario the vehicles requires independent suspensions, reduced weight and smaller dimensions.
GDELS-Mowag is now leading the response to new requirements for a lighter weight tactical vehicle with increased protection and capacity and lower logistical costs with the launch of the next-generation EAGLE. On the other hand the company deserves, with well over 900 of its EAGLEs ordered in different guises around by many countries, a special place within the numerous companies involved in light tactical armoured wheeled vehicles production. The EAGLE, which was first fielded in the late 1990s, is continuously evolving, constantly upgraded and some of the developments represent technological quantum leaps rather than mere evolutions. Once a close derivative of the Humvee, as the EAGLE I, II and III used its chassis and running gear, the EAGLE IV and the new one are a completely different chariot of choice since both are based on the Duro III chassis. The newest configuration (commonly dubbed EAGLE V) has further been developed based on the company's experience in the design and production of the operational-tested and combat-proven EAGLE IV, that is already in service with Germany and Denmark. These features include a low signature and mass, coupled with high reliability in all environments. It further incorporates a number of improvements such as internal decoupling measures, energy absorbing seats with an integral five-point harness with quick-release buckle (designed for use with body armour/ webbing), and a high-absorbing double 'V' floor to help minimize penetration and blast overpressure effects from mine and roadside bomb explosions, that also protects the crew against armor piercing (AP) rifle fire. It's designed to protect occupants from the effects of both 'shock wave' and 'slam down' experienced during a mine and/or an improvised explosive device (IED) explosion.
Although the baseline protection level has not been unveiled and remain classified, the only statement being made by the company is that the vehicle can withstand the most aggressive IEDs that this class of vehicle commonly faces in today's hostile environments, and that it has an MRAP class mine protection. Joining that class, new EAGLE has a higher protection level compared to the EAGLE IV. The survivability systems of the new EAGLE are modular and completely integrated with the new high survivability cabin. These kits allow the tactical commander to adapt the vehicle to new threats in theatre, thus securing the utility across the complete spectrum of combat operations. The new EAGLE is being launched with validated survivability kits meeting a range of threats. It includes an adaptive side protection system, called SidePRO-LASSO (Light Armour System against Shaped Ordnance). This lightweight net-type armour solution is specifically developed by RUAG Land Systems to provide enhanced protection against the widely deployed RPG-7 rocket-propelled grenade fitted with a single high-explosive anti-tank (HEAT) warhead and its derivatives. Due to the simple and intelligent design it is very light, easy to install, and still allows to maintain proper accessibility to the vehicle. Moreover, the system can also provide vehicles with a multi-hit capability. Any damaged sections can be rapidly replaced in the field. It has been tested and verified during dynamic firing trials and operational tested in Afghanistan on M113 Armoured Personnel Carriers of the Danish Army. In addition, unlike bar armour, most situational awareness is retained. All this for a system that is 80-90 per cent lighter than metallic armour systems. Although this is just one of the many survivability enhancement kits that GDELS-Mowag and its partners have developed for the vehicle.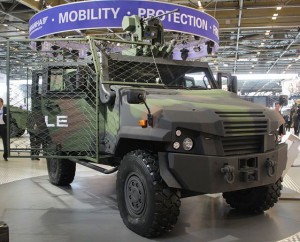 In this new configuration of the EAGLE, Gross weight has been increased from 8.5 tonnes to 10 tonnes, and the payload capacity has been increased by one tonne to 3.3 tonnes. The latter depends on the level of protection required. Due to its higher payload capacity, it can accommodate a variety of mission-specific equipment or heavier protection solutions, depending on the mission requirements, increasing its versatility. It features therefore also an electronic architecture system that allows for the rapid installation of new communications and electronic countermeasures systems. It's also able to carry a wide range of Overhead Remote Controlled Weapon Station (RCWS), armed with weapons ranging from 5,56mm, 7,62mm, 12,7mm, up to 40 mm in calibre.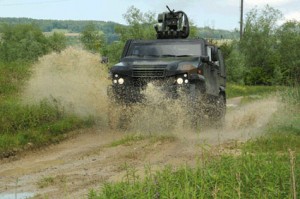 The new 4×4 version with four-door crew cab can seat up to five soldiers. The internal volume has been increased to 6.5 cubic metres by raising the roof in the forward part of the crew-cell and by moving the cell 150 mm forward to optimise the driver and commander position. Improving protection, increasing the payload and internal volume as well as improving ergonomics and occupant ride comfort, the new EAGLE nevertheless maintains the same width, length and height as the previous EAGLE IV. Likewise as 85% of the automotive parts and components are identical, the New EAGLE provides a cost effective through-life solution with a minimal logistics footprint. The next-generation EAGLE therefore still has a length of 5.40 m, a height of 2.32 m and a width of 2.20 m. Its new power pack, consisting of a more powerful 285 hp Cummins 'common rail' turbocharged diesel engine, coupled to an Allison transmission 2500 SP 5-Speed automatic, is good for a maximum speed of 110 km/h in high gear on the road and manages gradients of up to 60 percent and lateral inclines of up to 30 percent, and range stands at about 700 km. Larger tyres are fitted for improved mobility and a central tyre pressure control system is fitted as standard. Together with the unique De-Dion axle system with the patented roll stabilizer and the permanent all-wheel drive it give the new EAGLE superior on-road and off-road mobility.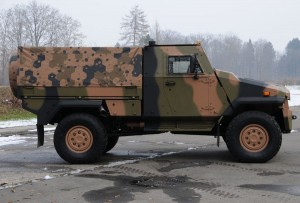 In the meantime, GDELS-Mowag is thinking forward. Beside the 4×4 version with a crew cab offering five seats, a utility pick-up configuration is on offer, with a volume of three cubic metres, two seat cabin and a rear transport platform. The reduced armoured volume allows an increased payload of up to 3.6 tonnes. A stretched 6×6 version of the new EAGLE is also in development, the length of which will be increased from 5.4 to 6.9 metres while GVW grows up to 14-15 tonnes and the internal volume up to 14.5 cubic metres with a full communication between the cab and the shelter. Two options are offered, one with a four-door crew cab and 6.5 tonnes payload and the other one with a utility two-door cab and 6.8 tonnes payload capacity, capable of carrying NATO pallets or a system of standardised modules that allow the vehicle to be quickly adapted at unit level to fulfil a range of battlefield roles with various mission configurations, such as troop transport, command and control, reconnaissance, communication, logistic, mobile medical team, military police, and so forth. The company is also aiming specifically at Special Operation Forces, by offering the new EAGLE 4×4 and 6×6 in a soft-top configuration. These vehicles can be easily fitted with mission-specific communications and a huge array of weapons systems, in their roles as highly tactical vehicle capable of operating in most climates and environmental conditions.
GDELS-Mowag new EAGLE 4×4 vehicle has secured its first contracts less than six months after it was launched. The Swiss Army has ordered four vehicles for delivery by the end of 2011 to meet an urgent operational requirement for use in the 'Explosive Ordnance Disposal' role. On October 20, 2011, a next-generation EAGLE was officially delivered to the Zürich Flughafen AG and Zürich Airport Police. As an important element in the security system of the Zürich Airport, the vehicle will conduct daily patrol missions on the airfield and provide protected mobility to police intervention forces. Moreover, two vehicles, one in a command and control variant and one in a utility-pick-up version, have been bought by the Australian Army for its Land 121 Phase 4 programme trials. According to the company, some new contracts are in the pipeline but no details were given neither on the type of vehicle nor on the potential customers.
The next-generation EAGLE addresses today's demands while providing growth and flexibility for tomorrow. Whatever the job, wherever the job, the high-speed, highly-protected, highly-manoeuvrable next-generation EAGLE can be configured to fit various missions as a military vehicle; law enforcement and security vehicle; disaster aid and peace-keeping as a rescue vehicle. Whether minimal protection is needed for disaster relief or maximum protection is needed for battle, the new EAGLE offers the performance and protection needed, whatever the mission profile is. It's also backed by GDELS-Mowag global logistics support, so it is always ready and available.
About General Dynamics – General Dynamics European Land Systems, headquartered in Madrid, Spain, is a business unit of General Dynamics and conducts its business through four European operating sites located in Austria, Germany, Spain and Switzerland. With more than 3,000 highly skilled technical employees, General Dynamics European Land Systems companies design, manufacture and deliver to global customers land systems, including wheeled (PIRANHA, PANDUR, DURO, EAGLE), tracked (ASCOD), and amphibious vehicles and bridging systems (M3, IRB, REBS), and other military goods. More information about General Dynamics European Land Systems is available online at www.gdels.com
General Dynamics, headquartered in Falls Church, Va., employs approximately 93,800 people world-wide. The company is a market leader in business aviation; land and expeditionary combat systems, armaments and munitions; shipbuilding and marine systems and information systems and technologies. More information about General Dynamics is available online at www.gd.com.