Introduction of the Boeing CH-47F Chinook into Dutch service is slipping further back than anticipated, although the Defensie Helikopter Commando (DHC) now expects to accept its first two Foxtrot models at Gilze-Rijen Air Base in September of this year. Both helicopters are planned to be shipped from Baltimore, Maryland to Antwerp in mid-July, at around the same time as the Joint Netherlands Training Detachment at Fort Hood, Texas will begin receiving its complement of three CH-47Fs.These are in addition to the eight RNLAF AH-64Ds already stationed there.
After arriving in Antwerp, the aircraft will be transferred to the RNLAF air logistics center at Woensdrecht Air Base. There, the Defensie Materieel Organisatie (DMO – Defence Material Command) will monitor all modifications that are deemed necessary before handover to the DHC. The sixth and final CH-47F will be delivered in early 2013.
Meanwhile, by mid-December 2011, the RNLAF's 298 Squadron had amassed 40,000 flying hours with its CH-47D fleet. Eleven CH-47Ds out of 13 delivered still remain in Dutch service and the strain is starting to show on these rotary wing assets. The seven ex-Canadian CH-147s in particular are increasingly showing signs of fatigue. The CH-47Ds will undergo a mid-life update programme from 2016 to bring these airframes up to CH-47F standard.
Late last year, Air-Commodore Theo Ten Haaf, commander of the DHC, expressed his discontent about the slow introduction of the NH90. He said that inadequate maintenance support by NH Industries and lack of spare parts is hampering the programme. As a result, the Dutch NH90 programme is confronted with another six-month delay before meeting operational requirements. Coincidentally, industry officials indicated that the majority of the Dutch NH90 troubles are caused because DMO fails to adher to NH Industries guideline recommendations concerning spare part stock levels. Meanwhile, phase-out of the remaining operational Lynx helicopters is now imminent.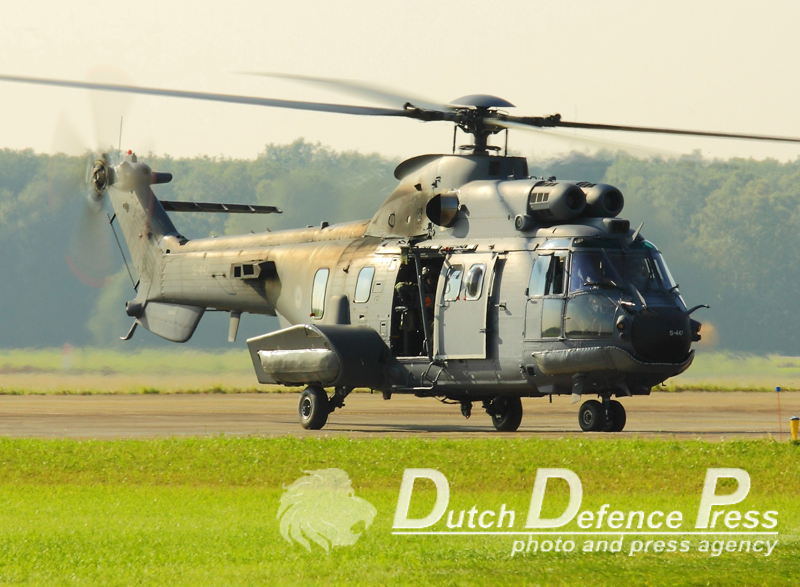 After being relegated to search and rescue (SAR) back-up, medevac and fire fighting due to budget cuts last year, Cougar helicopters crews from 300 Squadron have now once again resumed training for maritime operations to fill the void. Two Eurocopter AS532U2s took part in NATO exercise Cold Response 2012 in Norwegian waters on board the Netherlands Royal Navy LPD (Landing Platfrom Dock) Hr Ms Rotterdam. The same vessel together with two Cougars onboard will deploy to the Horn of Africa from July until December as part of the Dutch contribution to the counter piracy task force of NATOs Operation Ocean Shield. The light transport helicopters will provide shipborne SAR, medevac, vertical replenishment as well as transport to boarding and search teams.