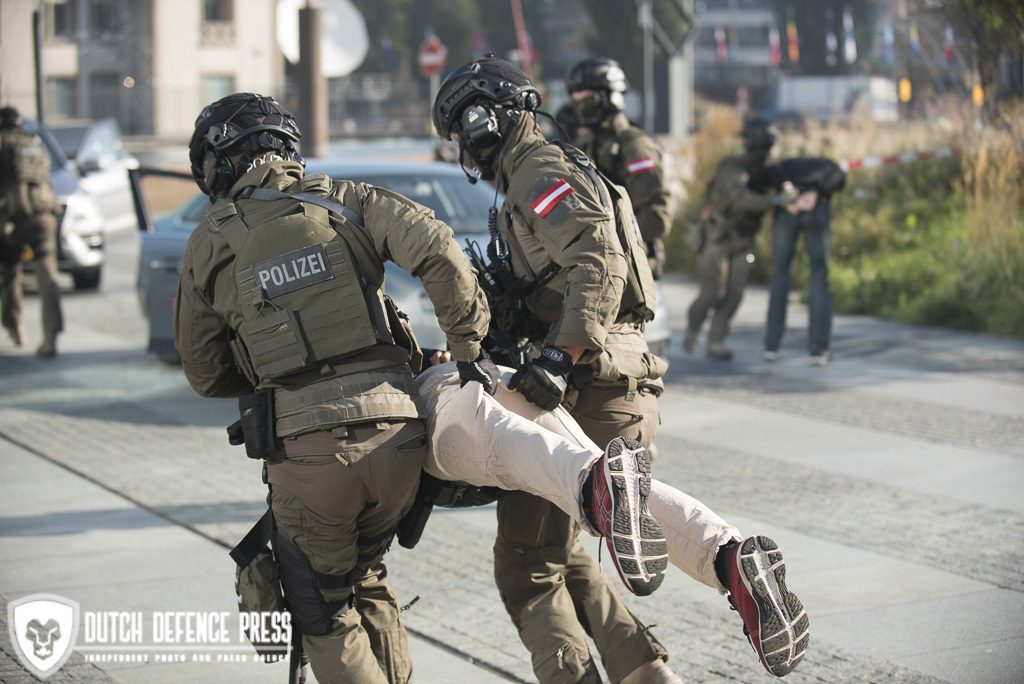 The signatures of Europol executive director Catherine de Bolle, Austrian Minister of the Interior Herbert Kick (as Austria now holds the presidency of ATLAS) and ATLAS chairman Bernhard Treibenreif marked the moment from when ATLAS became part of Europol.
The ATLAS Network was informally established after the attacks on 11 September 2001. The goal was to bring the SIU's (Special Intervention Units) from all EU member states and Iceland, Norway and Switzerland on the same level. There was a big difference between units in expertise. Only in 2008 was the cooperation formalized by the European Council. ATLAS' functions were expanded to "include the provision of assistance upon request of another Member State". In 2017 the EU Council concluded "…to find new administrative arrangements for the ATLAS Network, under which a permanent ATLAS Support Office (ASO) at Europol will ensure continuity for the ATLAS Network…". This was formalized on 10 October 2018 at Europol's headquarters the The Hague. With 38 SIU's from 31 countries (seven countries have two SIU's) it only makes sense to have a permanent Support Office.
The signing coincided with ATLAS Common Challenge Conference 2018 at the same location. At the same time these common challenges were tested with a total of seven scenarios across Europe. For the first time these exercises were coordinated from the Europol command center at the HQ. The aim of the exercises was to test the cooperation of units from different countries. This is exactly what the main goals of the ATLAS Network are.
SIU Capabilities: strengthening the SIU's capabilities to rapidly react to crisis situations,
Pooling & Sharing: raise the regional counter terrorism-capability by assisting SIU's through common pooling and sharing of specific equipment and expertise,
Cross Border: enabling joint operations by SIU's from different Member States,
Interoperability: ensuring interoperability of equipment and methods throughout the Union.
To bring all this home to the conference attendees and the assembled press a short and swift demonstration was put on by a team from Austria's Cobra, supported by members of the Dutch DSI (Dienst Speciale Interventies). You think that will never happen in real life? Think again. The framework is already in place.
ATLAS might still be unknown by the general public but it just might be the most successful cooperation within Europe. Just think about it. All these shadow warriors keeping us safe from harm and coming to our rescue. Isn't it wonderful to know all these units are all there and they all have each other back to protect us.