Thales UK's most advanced new mine countermeasures (MCM) 2093 wideband variable depth sonar installed on HMS Grimsby has been part of a two-week joint NATO operation that has led to 38 pieces of ordnance being found – 18 by HMS Grimsby alone.
During the joint operation, four ships were involved with the sonar on HMS Grimsby performing exceptionally well in the deep and cold water conditions.
Although operationally proven, an evolving mine warfare environment prompted Thales UK to develop the enhanced 2093 wideband variant, under the 2093 Capability Sustainment Programme (CSP) for the Royal Navy, providing a step-change improvement in threat recognition capability and range. This capability has now spectacularly proved it's worth in difficult conditions, making shipping channels and inlets safer for marine traffic.
Nathan Noall, Project Manager for 2093 CSP at Thales UK, said: "This is a great result for the new Thales 2093 Wideband Sonar, proving that the outstanding performance has real world application to provide safety for marine traffic worldwide. We are very proud to provide the Royal Navy with this exceptional capability."
2093 Wideband: technical details
2093 Wideband is a multi-frequency variable depth sonar system designed to counter the threat of modern mines in both deep and shallow water.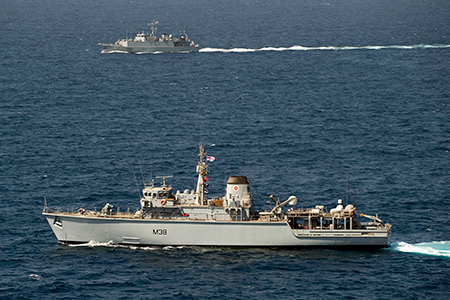 Its sonar transmitters and receivers are contained within a towed body which is lowered below the ship, penetrating oceanic thermocline layers which can cause sonar interference.
The new 2093 wideband capability has evolved from Thales's world-leading 2193 sonar, which has been in service on the Royal Navy's Hunt-class minehunters for a decade, giving 2093 an extensive deep water performance previously only seen in shallow waters. Pulse compression technology allows long range detection and classification of new generation, low target strength mines, while wider fields of view and multiple search and classification frequencies ensure that the critical mine hunting parameters of 'coverage rate' and 'speed of advance' are maximised under any operational conditions. The 2093 wideband's human-computer interface has also been converged with 2193, making familiarisation training quicker for sonar operators from Hunt Class ships.