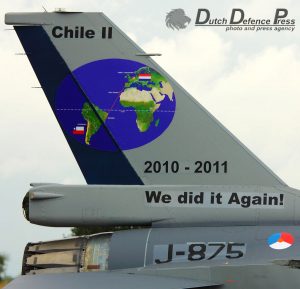 August 29th, 2011, Volkel AB was the scene for the departure of another batch of former Royal Netherlands Air Force (RNLAF) mid life updated (MLU) F-16s to the Chilean Air Force. Only five aircraft were involved (J-203/365/620/874/875) this time as the sixth F-16AM (J-627) had to ground abort just prior to departure. Coincidentally, this was the same aircraft that developed serious problems with its hydraulics during the previous ferry flight originating from Volkel earlier this year, April 4th. Then, it managed to reach Gando AB and was replaced a day later by J-058 for the next leg to Brasil. This time, problems with J-627, had to be fixed. Maintenance personnel managed to get it repaired and it left a day late, August 30th.
F-16AM J-203 replaced J-640 as this machine had made a hard landing April 8th at Charleroi-Gosselies which resulted in it being written off. It was executing a test flight at the time after undergoing maintenance at the locally situated SABCA facility.
As on previous transfer flights, an Ilyushin IL-76 was used to transport ground equipment and spare parts to Chile. The Russian transport aircraft used this time, Aviacon Zitotrans IL-76TD RA-76846 arrived at Volkel one day before the planned ferry flight. A RNLAF KDC-10 provided air-to-air refuelling during the ferry which was made up of three legs (Gando, Spain; Salvador, Brasil and finally Antofagasta, Chile).
With this latest transfer the Peace Amstel II deal with Chile has been concluded. It involved 18 M4 configured F-16AMs which were converted for Foreign Military Sales (FMS), the first six of which were ferried from Leeuwarden AB, November 4th, 2010. It also comprised a single ground instructional airframe (F-16AM J-255). The first complement of 18 F-16 single and dual seaters which the Fuerza Aerea de Chile (FACh) received, was made up of FMS converted M2 configured MLU F-16s. These were delivered during 2006 and 2007. Another benefactor of Dutch F-16 sales has been Jordan which aquired 6 M2 configured F-16BMs in the past.