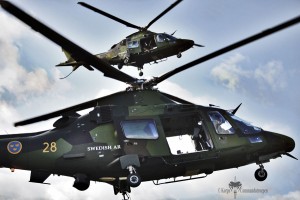 Danish air force base Aalborg was once again host to this year's edition of the special operations exercise Nighthawk (October 3rd-October 14th). Nighthawk is a multinational exercise which is nowadays led by the Danish Army Special Operations Force (DANSOF). However, it was conceived by the Royal Danish Air Force (RDAF) many years ago, which explains why this specific exercise manages to attract a large diversity of participating air assets year after year.
A combined special operations air task group (SOATG) provided rotary wing and fixed wing air support during NH11 (Nighthawk 2011), comprising Swedish Flygvapnet A109 Light Utility Helicopters (Hkp15A) and C-130E Hercules (Tp84) air transports, Finnish NH90-TTHs and Danish EH101-512 Merlin and AS550C2 Fennec helicopters in addition to some C-130J-30s. RDAF mid life updated F-16s joined in to provide training to joint tactical air controllers (JTAC) with a number of close air support (CAS) sorties.
Special Forces commanders praised their Danish hosts for inviting all the aircraft. It is quite rare for modern day exercises to be supported by such overwhelming air power due to the fact that helicopter assets are in such high demand for real world operations. So, participating SF operators did their best to use it to the utmost.
Two special operations task groups (SOTG) were led by a Danish Combined Joint Forces Special Operations Component Command (CJFSOCC). Domestic Jaegerkorpset special forces, together with German and US counterparts from the Kommando Spezialkräfte and 10th Special Forces Group, took charge of SOTG-A. Swedish special operations forces from K4 regiment were attached to experienced personnel from 108 SF Company, Royal Netherlands Army Korps Commandotroepen (Special Forces Regiment) to form SOTG-B.
On the first day of NH11, participants were briefed on the specific safety aspects of the various helicopter types. Some close quarter battle training and fastroping out of available helicopters ensued during the next two days followed by aerial live firing and helicopter vehicle interdiction tactics. UK specialist Tactical Air Traffic Control Unit personnel assisted their NATO allies in conducting Tactical Landing Zone (TLZ) operations. Danish Hercules transports made use of a beach strip at Blokhus near Aalborg specifically for this purpose. Together with their Swedish counterparts, the C-130 crews also executed a series of airborne operations. Dutch combat divers were dropped at night by parachute together with their specially rigged Medium Inflatable Boats (MIB). Military free fall (MFF) parachuting was not left out and performed on different occasions.
The tactical phase of the exercise got underway late in the first week. Participating special operations forces were challenged to demonstrate their skills in a wide spectrum of scenarios. Special reconnaissance, direct action, counter terrorism and hostage release operation missions had to be executed; each mission being preceded by its own Military Decision Making Process (MDMP).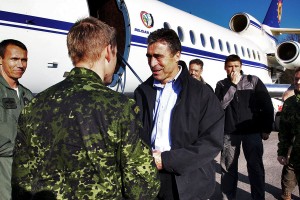 NATO Secretary General Fogh Rasmussen, visiting the exercise in his native country, witnessed a Dutch Helicopter Assault Force Special Operations Task Unit (HAFSOTU) in action during a particularly high profile mission at night in downtown Odense.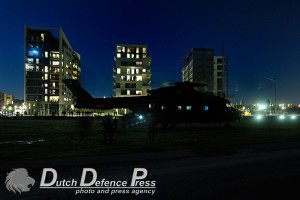 An abandoned wharehouse harboured a small number of hostages being held to ransom by heavily armed insurgents. Dutch SFR (Special Forces Regiment) team members specialised in riverine operations were infiltrated with their MIBs to establish an observation post near the target area some time before the planned insertion. These operators provided real-time intelligence on enemy action and local developments. Then the assault force was rapidly forward deployed by C-130 to a tactical landing zone closer to Odense. Once all hostages had been accounted for, the commander in charge of the task unit ordered his forces to mount their helicopter transports and move out. It was now or never. Two Danish Merlins swooped in on their target with one helicopter landing almost dead on to the entrance of the building. The troops scrambled towards the wharehouse from two directions and quickly overwhelmed all opposition with superior firepower and tactics. Once freed, the hostages were taken on board the Merlins, which moved off again within 20 minutes in the dead of night. Once again, mission accomplished!
Dutch Special Forces Regiment profile:
SFR primary missions are special reconnaissance, direct action and military assistance. Collateral missions include counterterrorist operations, hostage release/ non-combatant evacuation operations and personnel recovery. Specific teams are specialised in conducting riverine operations, operations in mountainous terrain and in HAHO/HALO (high altitude-high opening/low opening) airborne operations. Each team is made up of medics, communications specialists, snipers and demolition experts.
The regiment underwent a turbulent period after the end of the Cold War. The Royal Netherlands Army was transformed into an all volunteer force and so did its Special Forces Regiment. Its active-duty strength has quadrupled since and it now boasts four operational special forces companies.
Post-Cold War operational commitments led to SFR personnel conducting operations in the Balkans almost continously from 1993 until 2002. During 2002 and 2003, an SFR platoon provided the commander of the Kabul Multinational Brigade (ISAF) with its own reconnaissance assets. In Iraq (SFIR), SFR units supported Dutch battle group operations in Al Muthanna province from late 2003 until 2005.
Afghanistan operations have challenged SFR personnel since. Task Group-Orange conducted operations in Kandahar province as part of Operation Enduring Freedom (2005-2006). ISAF stage III resulted in the deployment of Dutch troops to Uruzgan province. This in turn led to the Special Forces Task Group-Viper being engaged in heavy fighting for prolonged periods of time at the outer limits of the area of responsibility of Task Force Uruzgan (2006-2007). From mid-2009 until August 1st, 2010, Dutch SF operators of Task Force 55 conducted special operations in ISAF Regional Command-South under COMISAF control.
Helicopters are favoured for air support of special operations. Principal means of transport for the Dutch SFR are the helicopters of the Dutch Defence Helicopter Command (DHC). RNLAF 298 Squadron has a designated SF flight, which is going to make use of CH-47F Chinooks with SF kits in the near future. This SF kit will introduce provisions for fast roping and the ability to carry 0.50in (12.7 mm) M3M machine guns.