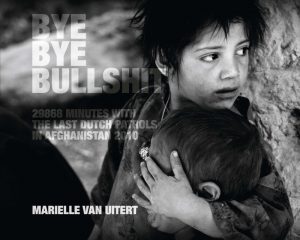 Our Australian colleague and Dutch Defence Press contributor Andrew Balcombe interviewed our good friend and great photographer Marielle van Uitert about her book 'Bye Bye Bullshit'.
Marielle is a documentary photographer, graduated from the Dutch School for Photography Amsterdam and Boxtel. She has made both a wide range of features in Afghanistan, embedded as unembedded, as in Iraq, West Bank, Rwanda, Russia, Africa etc. Her book 'Bye Bye Bullshit', 29868 minutes with the last Dutch patrols in Afghanistan 2010' was published in 2011.
In 2010 she was second prize winner overall for the United Nations Development Programme in New York featuring the picture 'Liquid Gold' which she made in the Central African Republique for Cordaid. She was also second prize winner of the Zilveren Camera 2011, foreign news. She has made many features around the world for both NGOs and private work. It is her passion to show war through small and personal stories in order to give vivacious wars, violence or poverty a personal face.