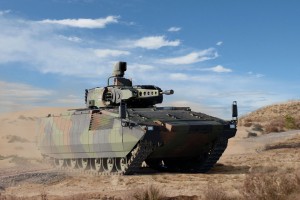 Germany's order of 405 Puma infantry fighting vehicle is the largest-single contract in
recent Rheinmetall history. The first of these newly developed combat vehicles will
reach the Bundeswehr starting in 2010.
Worth approximately €3.1 billion, the procurement order has now been signed at the
Federal Agency for Defence Technology and Procurement (BWB) in Koblenz. The
contractor is PSM GmbH of Kassel, in which Rheinmetall AG of Düsseldorf and
Krauss-Maffei Wegmann GmbH & Co. KG of Munich each hold a 50% stake. The
Budget Committee of the German Parliament recently approved the start of serial
production of the Puma, currently Europe's largest land system project.
"This is an important day for us. In terms of technology, the start of serial production
of the Puma underscores Rheinmetall's cutting edge position, and clearly
demonstrates the efficiency and effectiveness of the German defence industry as a
whole", declares Klaus Eberhardt, Chairman of the Executive Board of
Rheinmetall AG.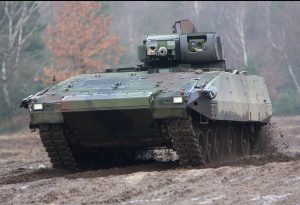 "The series order for the Puma makes sure that Germany maintains a world-class
level of defence technology knowledge and expertise; it will also safeguard a lot of
jobs for years to come", states Mr Eberhardt, going on to note that "the German
government's decision to go ahead with the Puma project will spark global interest,
and bolsters our competitive position worldwide".
Puma sets new standards for force protection and crew survivability
The Puma is the German Army's most important force transformation project.
It provides its crews with a level of protection against asymmetric threats like
landmines, rocket-propelled grenades and improvised explosive devices that no other
vehicle in its class can match.
Thanks not least to its air-portability, outstanding mobility in rough terrain and
excellent upgrade potential, the Puma is destined to play a key role in international
crisis management. As well as offering unrivalled crew protection, the Puma sets a
new standard for combat effectiveness and battlefield lethality: developed and
manufactured by Rheinmetall, the vehicle's 30mm gun system and programmable
Ahead airburst ammunition deliver compelling firepower.
Today, more than thirty years since the Bundeswehr first fielded the Marder infantry
fighting vehicle, the Puma – with its expanded array of capabilities – constitutes an
entirely new category of vehicle. Internationally, the Puma dominates the current field
of armoured fighting vehicles.
In September 2002, the German Parliament authorized a project development
contract for the new IFV, effectively giving a green light to the project. The
procurement of five pre-production vehicles (worth around €350 million) was
announced at the end of 2004. These vehicles successfully passed an exhaustive
array of tests by the German military in March 2009.